Choosing the Perfect Porcelain Countertop Brand for Your Remodeling Project
Selecting the perfect porcelain countertop brand is crucial for achieving both aesthetic appeal and long-lasting durability. Porcelain slabs, also known as ultracompact, sintered stone, or mineral surfaces, have emerged as a popular choice for homeowners looking to elevate their kitchen and bathroom countertops, flooring, showers, and wall cladding.
With a wide range of options available in the market, it's essential to understand the unique features and benefits offered by various porcelain slab brands. In this article, we'll delve into the world of porcelain countertops and help you choose the perfect brand for your remodeling project.
The Versatility and Durability of Porcelain Slabs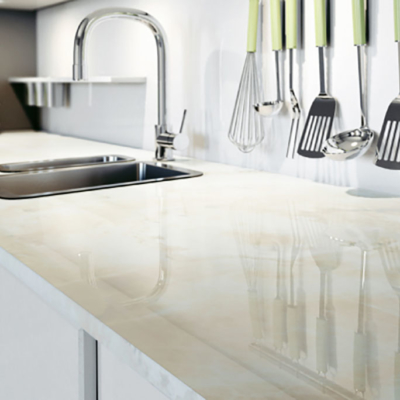 Porcelain slabs have gained popularity due to their versatility and durability, making them an excellent choice for various home applications. Whether you're revamping your kitchen, bathroom, or any other living space, porcelain slabs offer a stylish and functional option that is easy to maintain. These slabs are not only visually appealing but also resistant to scratches, stains, and heat, ensuring they can withstand the demands of daily use. Moreover, their non-porous nature makes them highly resistant to moisture, making them suitable for wet areas like showers and pool decks.
Introducing the Top Porcelain Slab Brands
In the world of porcelain countertops, several leading brands have carved a niche for themselves by offering exceptional quality, innovative designs, and a diverse range of options. Let's take a closer look at some of the top porcelain slab brands that have garnered attention in the market:
1. Laminam
Laminam is synonymous with high-quality porcelain slabs that feature elegant designs suitable for any home remodeling project. The brand's offerings combine aesthetics with performance, allowing homeowners to create beautiful and long-lasting spaces. Whether you're aiming for a modern, minimalist look or a more traditional design, Laminam's porcelain slabs cater to a wide range of style preferences.
2. Lapitec
Lapitec is a renowned porcelain slab brand known for its innovative designs and exceptional quality. The brand offers a range of colors, finishes, and thicknesses to suit various design preferences and applications. Lapitec slabs are highly resistant to scratches, stains, and UV rays, making them suitable for both indoor and outdoor use. Whether you're looking to upgrade your kitchen countertops, bathroom surfaces, or outdoor areas, Lapitec porcelain slabs can provide a sophisticated and durable solution.
3. Neolith
Neolith stands out as a popular choice among designers and homeowners alike, thanks to its stunning designs and unparalleled durability. The brand offers a wide range of finishes and colors, including natural stone looks, solid colors, and unique patterns. Whether you're looking for a classic or contemporary style, Neolith porcelain slabs provide a perfect fit. Ideal for kitchen and bathroom countertops, flooring, and wall cladding, both indoors and outdoors, Neolith offers a blend of elegance and functionality.
4. Dekton
Dekton, a popular brand by parent company Cosentino, has made its mark in the industry with its consistent quality and exceptional performance. Known for its expertise in the Silestone quartz line, Cosentino brings the same level of craftsmanship and innovation to Dekton porcelain slabs. While Dekton has been widely available for several years, it's important to note that not all fabricators are equally comfortable with the fabrication and installation processes involved. When opting for Dekton, ensure your chosen fabricator has the necessary expertise to work with this material effectively.
5. MSI Stile
MSI Stile porcelain slabs are a popular choice, thanks to their affordability without compromising on quality. The brand offers a wide range of designs and colors, including marble looks, concrete looks, and solid colors. MSI Stile slabs also boast an impressive water absorption rate, making them ideal for wet areas such as showers and pool decks. If you're on a budget but still want a high-quality porcelain slab, MSI Stile provides an attractive option that meets your needs.
6. Corian Endura
Corian Endura is a brand that has gained recognition for its advanced porcelain slab technology. The slabs offered by Corian Endura feature a blend of natural minerals, high-performance resins, and advanced manufacturing processes, resulting in a product that is both stunning and resilient. Corian Endura porcelain slabs are designed to withstand daily wear and tear, making them suitable for various applications. With a wide array of colors and finishes available, Corian Endura offers versatility and style for your remodeling project.
Considerations for Choosing the Right Porcelain Slab Brand
While the brands mentioned above represent some of the leading options in the market, it's important to consider a few factors when making your selection. Porcelain slabs are generally priced in line with higher-end quartz or quartzite materials, so it's crucial to factor in your budget.
Additionally, the popularity of porcelain slabs in the United States is still growing, with strong footholds in certain regions such as California and Miami. Therefore, finding a fabricator who has experience working with porcelain is essential for a successful installation.
Porcelain slabs offer exceptional durability, low maintenance requirements, and endless design possibilities for your remodeling project. Whether you choose Neolith, Laminam, Dekton, MSI Stile, Lapitec, or Corian Endura, ensure that your selection aligns with your specific needs, preferences, and the overall aesthetic you want to achieve.
For expert guidance and support, reach out to the professionals at Olive Mill, your trusted countertop experts. They can assist you in exploring the possibilities for your bathroom, kitchen, fireplace, or outdoor area remodel. Visit their showroom to experience their porcelain countertop and shower displays firsthand.
In conclusion, porcelain slabs provide an excellent investment for your remodeling project. By selecting the right brand and working with experienced professionals, you can transform your living spaces into stunning showcases of style and functionality. Choose a porcelain slab brand that aligns with your vision and enjoy the beauty and durability it brings to your home for years to come.
For more information about Porcelain Countertops – Click Here
---


If you have questions or would like an estimate, please call / text Valerie at 714-528-3789 or email at valerie.olivemill@gmail.com
Learn How to Measure a Countertop for an Estimate
https://olivemill.com/wp-content/uploads/logo_olivemill_299x100.png
0
0
Andy Graves
https://olivemill.com/wp-content/uploads/logo_olivemill_299x100.png
Andy Graves
2023-06-18 12:44:32
2023-07-18 11:58:34
Choosing the Perfect Porcelain Countertop Brand for Your Remodeling Project